EXTREME MAKEOVER:
HOME EDITION
Well, I'm pretty sure this news has already spread throughout the Lansing area but for those of you who don't know, Extreme Makeover Home Edition is coming to Lansing. That's right, Ty Pennington and his whole crew are heading up a project practically right up the street from where I live.
Everyone's getting pretty pumped about it, especially my fellow-students and other people in the trade want to really get in on the action.  I personally signed up to volunteer individually, but
Hart-Davidson Designs
(where I intern) has signed up as a group, as well as the
School of Planning, Design, and Construction
here at Michigan State University. 
The company teaming up with Extreme Makeover: Home Edition,
Mayberry Homes
, has requested the MSU School of Planning, Design, and Construction to put teams together.  This includes teams created from all disciplines - Interior Design, Landscape Architecture, Construction Management, and Urban & Regional Planning.  The interior design team will be 2 teams of 10 ID students that are being selected by the heads of the department.  Still waiting to hear more info on this like how the students are being selected and who is actually being selected (will report back on this :D ).
Either way, I hope to be involved in SOME way, whether I'm just a person in the masses waving my arms behind Ty Pennington and yelling "MOVE THAT BUS!" (see picture below) or if I actually get to have my hands in on the work/design.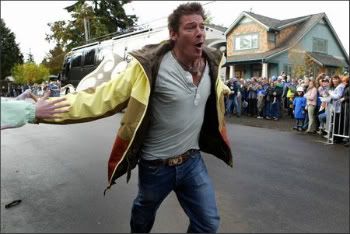 Tomorrow I will be attending the Extreme Makeover: Home Edition kickoff pep rally (hopefully with the bf in tow):
St. John's Student Parish
327 M.A.C. Avenue, East Lansing
I will update with all the EXTREME info after tomorrow's pep rally
Photo Credits: extreme makeover: home edition & seattle.redfin.com