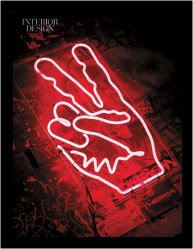 This space rocks, figuratively and literally.  In fact, it's been rocking out for real for about 35 years now.  This space I'm talking about is the legendary
CBGB's
at 315 Bowery in New York City.  A little history on this place?  It was founded by Hilly Kristal in 1973 and became famous as the birthplace for punk rock.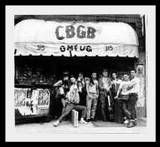 Well, CBGB closed in October of 2006 but by November 2007, it was announced that fashion designer
John Varvatos
would be opening a store in this space.  And, so he did, while simultaneously preserving everything that CBGB previously stood for.  I personally think John Varvatos is a perfect fit for CBGB, he has always had a love for rock music and even Alice Cooper is a wearer of the John Varvatos brand.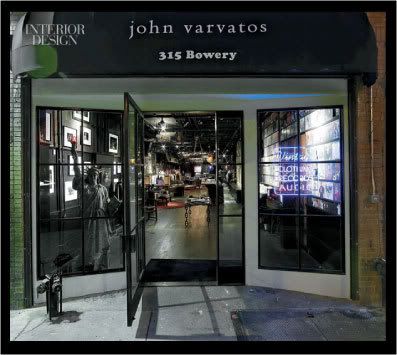 Store Front
A view into the boutique where you can see vintage guitars framed under glass and rare band posters that Varvatos searched long and hard for.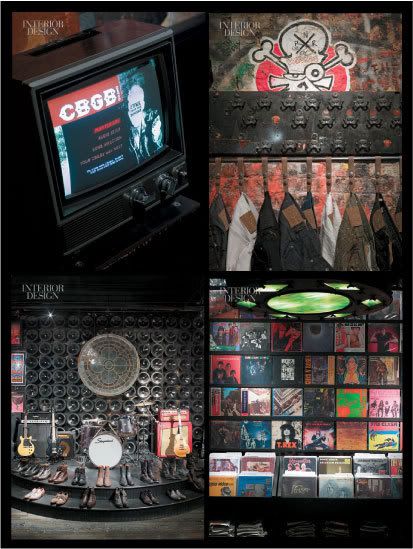 Some of the most important details of the space are pictured above, including a vintage TV, an original coat rack now used to display jeans, walls covered in graffiti and stickers that were dusted off with paintbrushes and preserved like historic frescoes, a stage displaying shoes that can still be used for jam sessions, and bins loaded with John Varvatos' personal vinyl collection.
(and this is my shoutout to Detroit Rock City since Varvatos grew up there)
And this has to be my all time favorite photo of the space.  The 30 gorgeous chandeliers
juxtaposed
against the rugged rock n' roll surroundings just totally depicts my overall view on design.  (This is the kind of thing I was going for with my new header that I recently added...oh juxtaposition!)
This photo also shows a pretty good view of the oak floors that the design team reclaimed from barn salvage and stained to make them look worn.
I will now go off and dream about doing a perfect project like this when I am a professional interior designer.
Photo Credit: Interior Design Magazine (interiordesign.net)