Clear pieces have begun to be slowly integrated into design and I predict that this trend will soon come on in full force.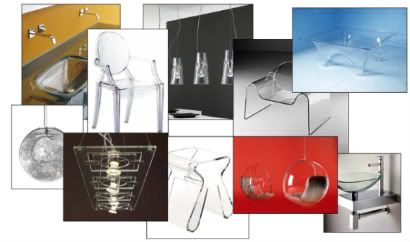 Pieces like these tend to be made of glass, plastic, acrylic, or polycarbonate and are coming to be known as "ghost pieces", which comes from one of the original pieces of this nature, the
Louis Ghost Chair
by Philippe Starck for Kartell. These pieces can create some really awesome layering effects in a space and I've already started to play around with this clear trend in a couple of my design projects.  One project included a glass table with 2 clear chairs, and, most recently, I included glass bedroom walls into one of my designs.