Finally! A chance to update!

Well, last thursday was the beginning of move-in/staging day. It started off with us being in a pretty big rush at the HDD studio to complete all of the custom home fashions for the house. That is, until we found out they were running behind at the house and we weren't needed for another 2 hours.  At first I was upset because I missed class AND the Obama rally for this but, I came up with a solution.


Since I don't really have much sewing experience and they seemed to have the cornice-building covered, me and 2 of the other girls decided to drive back over to campus and catch some of the Obama Rally.  It was really crowded and the line to get in was still wrapping around campus, so we ended up just standing outside of the gated-in area.  I was only able to hear Obama's voice echoing through the microphone and I got a glimpse of his hands moving when I peeked between some tree branches.  But, oh well, at least I ended up actually getting to go...and hey, I got to see this cute dog, right?...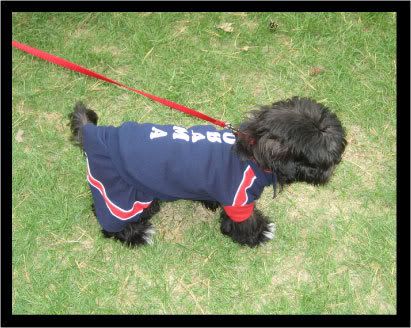 Then it was back to the studio! We packed into the care and headed over to the Extreme Makeover check-in where a bus took us to the site. It was pretty hectic when we got there, contractors were still installing things and furnishings were beginning to be moved in. 
We did a variety of random things there - help move accessories to the basement to create "accessory world" (they basically pile everything up in the basement and then go "shopping" for the pieces they want to use in the house), stand in the pouring rain/freezing cold, stage the kitchen, eat some food, steam window treatments, organize clothes, install window treatments, eat some more food. We worked at the house until about 3 am. I came home, slept for about 3.5 hours, and was back at the house the next morning!

Friday morning was really exciting!  The family was coming home that day so everyone was in a rush to finish, cameras were rolling, and I ended up in the master bedroom closet getting it ready for it's big TV debut with one of the other HDD girls. This job consisted of organizing and putting the clothes in perfect roy g biv order.  Since the master bedroom is "Ty's Room" we got to chat with him a little and snap a quick picture.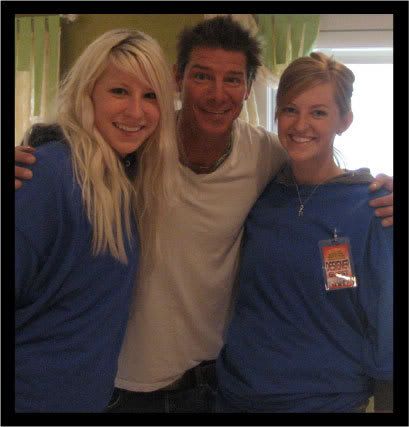 We eventually all headed outside for "Move that Bus" where my mommy was waiting in the crowd.  It was so awesome to finally see the family and see the looks on their faces when they saw the house.

Unfortunately, I cannot share most of my personal pictures until after the show airs, which should be in 6 to 8 weeks.  So, tune in Sundays 8/7c on ABC, this should be a really awesome episode!