I'm sure most all of you are well aware of the infamous fmylife.com by now, in fact you may even visit the site to get your daily dose of "humor at someone else's expense" in.
But, within the last couple days, I have gotten my own dose of FMLs...all of which are related to interior design.
1. For my Japanese Pop Culture class, we were all asked to bring in Hello Kitty something to basically just prove the point that they make Hello Kitty EVERYTHING. We could even print something out that we found on the internet. As I started my searching, I came across a Hello Kitty Hotel. I thought to myself, "well this is interior design related, right up my alley!" Then, as I sat down in class the next day, I looked closer at the image and noticed 4 bondage straps on the bed. FML.
2. I am currently president of the Interior Design Student Organization at my school. We have weekly board meetings that are held in our student lounge. We always have trouble fitting everyone around the tables in this room, but this Wednesday when I walked in to set-up I was pleased to find that the tables were arranged in such a way that there was probably enough space to fit everyone! I placed an agenda at every seat and then took a seat at the "tip" of the tables, only to notice that I was staring down the length of a very...phallic-looking arrangement. FML.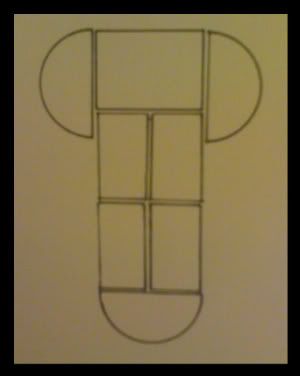 3. I am in an Office Systems course where we are currently learning to use CAP studio in CAD to create functional office spaces using panels and the like. I worked diligently on a floor plan for our 2nd where we are required to fit 20 workspaces into a small office area. In an attempt to do something unique and creative, I tried placing my panel systems on a diagonal. As I finished my first attempt at the space planning of this office space, I found that my panels had formed a series of perfect swastikas. Needless to say, I completely started over. FML.