This is the beginnings of my first group school project of the semester. We are working in groups of 3 to design a de-institutionalized long-term care facility for elders who are residents, or would like to be residents, of
Porter Hills
in Grand Rapids, MI.  This concept of making these nursing homes feel more like an actual home is known as the
Green House Project
.
Since learning to program and conceptualize is a big focus of this class, we began with each team making a concept powerpoint presentation, so here's ours:
Critiques and ideas are openly welcome and wanted, I encourage you to leave a 
comment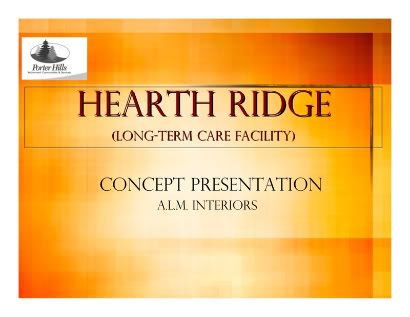 Professor's Comment:
"Overall good project description but this is not an assisted living facility"
(This has already been taken care of and changed to long-term care facility)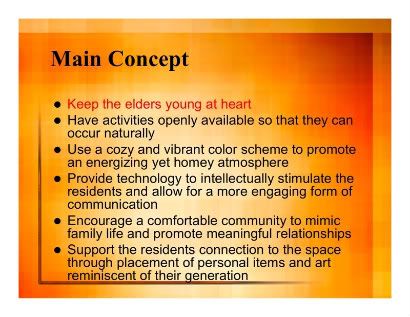 Professor's Comment:
"You might want to think about that the proponents of these types of nursing homes are pro-aging.  They don't agree that aging is a negative things but a natural part of life.  Old people may lose a physical capability but gain lots of things that younger people don't have such as wisdom, experience, etc.  And they are happy with what they have and who they are."
Professor's Comment
: "Some of these things have nothing to do with young or old.  For instance, music may be something that old and young people both enjoy even though they may not  like the same kind of music"
Professor's Comment:
"Creating outdoor spaces is a good idea but you need to think about how to secure the space for people with dementia so, they don't escape from the nursing home."
"Nobody in a nursing home can walk fully on their own.  If they can, they don't go to a nursing home!"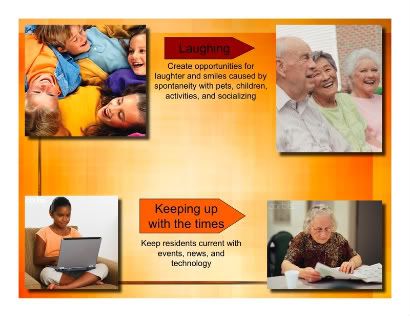 Professor's Comment:
"Good idea" (regarding the "laughing" concept)
Professor's Comment:
 "The visual images should be related to your concepts that you discussed above"
(we only included pictures of actual home environments to show that we want to make in as far from institutionalized as possible)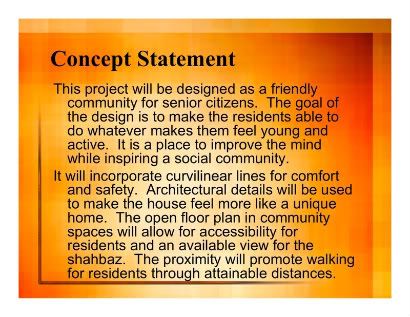 Professor's Comment
:  "It is overall good but can be further improved"  "Not clear.  How do you improve mind?" (regarding sentence "it is a place to improve the mind while inspiring a social community")
I think some of my professors comment's were due to some misunderstandings, but that just means our group has to work on communicating our concept more clearly.  We are also trying to make our project have something really unique to differentiate ours from the other teams.  Our first strategy for this was using a vibrant and warm color scheme.  We figured that most people would be using the soothing greens/blues that are typically thought of, and while most people did, there were also a couple that went for the "fall color" route.
I look forward to your input!